I
'm finally back from the holidays! A. and I, we had fun, only the two of us together. We first spend time with grandparents way south in Italy, in a region called Marche. We relaxed at the seaside and in the camping village where my parents use to spend all of their summer. We also had friends visiting for a short weekend and grandma managed to feed 5 adults and 5 children with little to no effort! She was great!
On our way back we stopped for 3 day in
Riccione
. It's a well known summer resort in the Region Emilia Romagna with long beaches and endless fun opportunities day and night. It was terribly hot, we felt like diving in an open space sauna. The location was perfect for visiting two amusement parks: Italia in Miniatura and the Acquario di Cattolica. If you happen to be there take the time to visit them, they are really worth the time.
As soon as we came home I feel ill. I guess it was the air conditioning at the hotel to be presumed guilty. I had to switch it on also at night otherwise it was impossible to get some rest. I set it on 26 c°, not too cold but unfortunately it was enough to cause me a severe sinusitis with temperature and a bad cough. Last Monday the doctor gave me some antibiotics but after a week I still have some breath difficulties and a ugly running nose and this is weird and funny somehow as outside we still have 35c° at half past six in the afternoon!
Back to scrapping while I was out of town Louise had a lot going on: a new kit and new commercial use elements:
on sale at:
Stefairy released a new kit too, it's called Mother of Pearl. It has 120 elements and 25 background papers and comes in a bundled version too with: 4 Quick Pages, 5 clusters and 5 embellishments. It was a joy to scrap with it!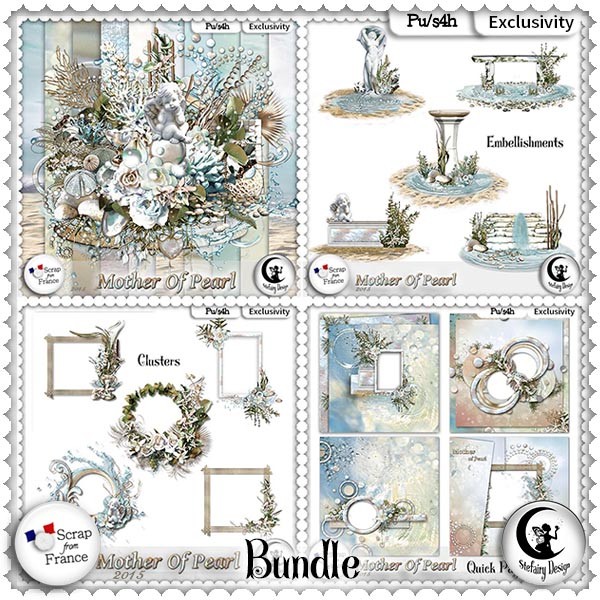 on sale at:
my pages:
In this last page the nice photo is courtesy of Pezibear via Pixabay.
The promised freebie:
As usual all my creations are for free and for personal use only.
All I'm asking is a little bit of patience in reading this post's few lines to find the download link which is hidden in the post.
Once you reach the linked word and you move your mouse over it, it gets highlighted or changes color (it depends on how you browser setting regarding links are configured). Click it and you will be taken to 4shared.
You will be prompted for a password. The password is: abbondanza
PS: if you don't find the link (it's there I grant this) drop me a note or a comment but give me a way to contact you back... , I will be more than happy to help you out as this is not a treasure hunt, it's just a way to let you read my post.
Please leave a comment, a little love is always appreciated!