Days are passing by very quickly , time is flying and projects accumulate on my desk... I am now working on some slide-shows for my son's school teachers. I finished the first class DVD last week and yesterday night around 3 a.m. I finished editing the photos for the second class DVD, some photos needed minor fixing , some other were unusable, too blurred or impossible to fix. It took me a lot of time. The next step consists in building the slide-shows and choosing the right music, any suggestion? The music is my biggest problem... I hope to progress a bit tonight.
Next project : Baptism album for my friend, it has to be ready for the middle of October.
Waiting in the row: Lego Tissue bags (sewing project) to store DS Lego , on which I'll iron the image of the set itself for quick sorting, using iron on T-shirt paper, finish hand quilting a queen size quilt I made years ago, finishing a cross stitch square shaped scene, Madonna with child , for my bed room. ah ah ah... and there are so many things I saw on line I would like to try out.... paper crafting projects for boxes with recycled paper, macramé styled bracelets... oh my...
The new kit for today is called "Color my Life", a new creation by Scrap'Angie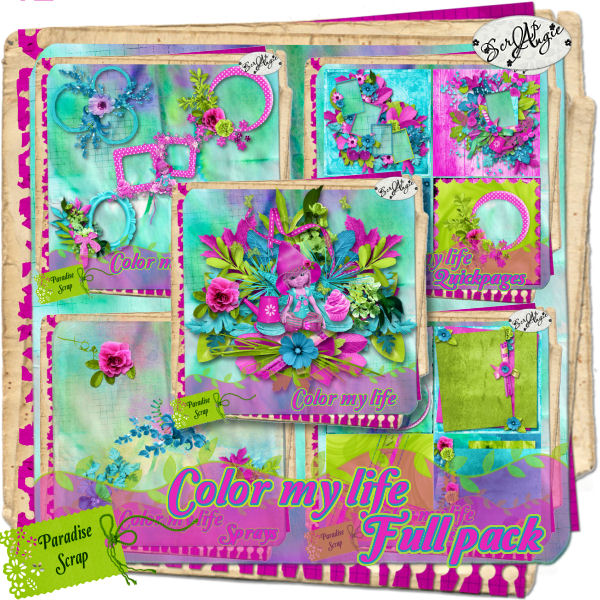 my page made with the kit:
Credits:Word art by Ginger's House 4-22-11 Yourself
As usual all my creations are for free and for personal use only.
All I'm asking is a little bit of patience in reading this post's few lines to find the download link which is hidden in the post.
Once you reach the linked word and you move your mouse over it, it gets highlighted or changes colour (it depends on how you browser setting regarding links are configured). Click it and you will be taken to 4shared.
You will be prompted for a password. The password is: caldo
PS: if you don't find the link (it's there I grant this) drop me a note or a comment but give me a way to contact you back... , I will be more than happy to help you out as this is not a treasure hunt, it's just a way to let you read my post.

Please leave a comment, a little love is always appreciated!