There is a new kit on sale today it's called " Angel Dust" and it has been created by Stefairy. I love this kit because blue and light blue are my favourite colours and there are angels in it.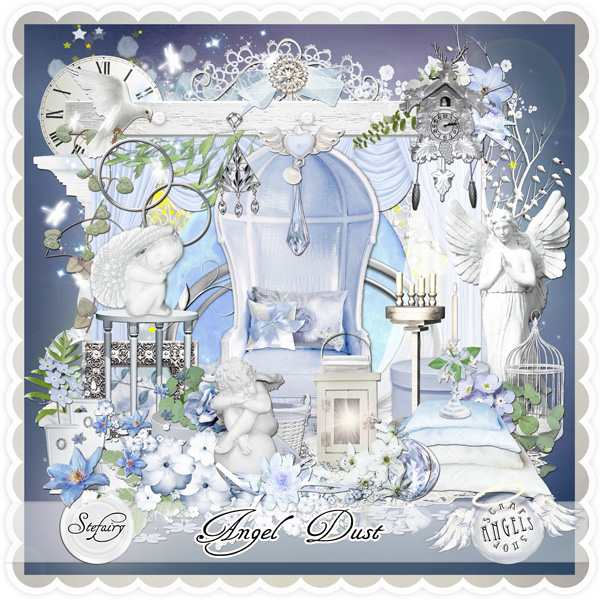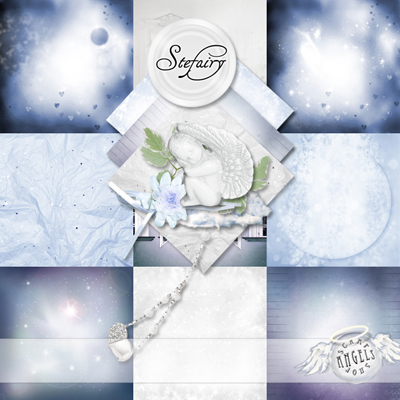 But have a look at her blog too for more informations and freebies!

I made a couple of pages with Angel Dust as usual and I am going to post some freebies too. The first one today, the other one in a couple of days so check back!
I am quite worried about the health of our planet, I have already posted a video about my worries some time ago, worried about the pollution, chemicals, radioactivity, ogm etc. and I try to calm down my mind designing this page. I set the Earth under Angel's protection (see our blue planet in the bottle?) put a white dove nearby (hope symbol). Mankind is represented by the face blended in the background. For the journalling I choose the Earth Prayer I found on the Apple Seed .
O G
OD,

we thank you for this earth, our home; for the wide sky and the blessed sun, for the ocean and streams, for the towering hills and the whispering wind, for the trees and green grass.
We thank you for our senses by which we hear the songs of birds, and see the splendour of fields of golden wheat, and taste autumn's fruit, and rejoice in the feel of snow, and smell the breath of spring flowers.
GRANT US
a heart opened wide to all this beauty; and save us from being so blind that we pass unseeing when even the common thorn-bush is aflame with your glory.
A page dedicated to the miracle of birth!
The freebie Qp I am gonna share with you today is the second one, see the preview:
The download link expired!
If you download and use my freebies please take time to leave a little love .